Suits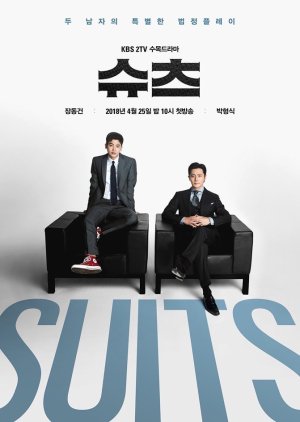 Choi Kyung-Seo yang diperankan oleh Jang Dong-Gun merupakan seorang pengacara legendaris di firma hukum yang terkenal di Korea Selatan. Dia mempunyai kharisma dan tampilan yang menarik, selain itu Dia juga mempekerjakan Go Yeon-Woo yang diperankan oleh Park Hyung-Sik merupakan pengacara rookie untuk firma hukum tersebut. Go Yeon-Woo memiliki ingatan yang sangat baik.
*Notes: Serial drama ini merupakan Remake berdasarkan cerita asli dari serial televisi U.S. (Amerika) yang telah ditayangkan sejak 2011 silam.
Title: Suits Native: 슈츠 Type: TV Status: Completed Score: 8.3 Year: 2018 Release Date: Apr 25, 2018 - Jun 14, 2018 Network: KBS2 Duration: 60 min. Rating: 15+ - Teens 15 or older
Reminders: If a video doesn't load, make sure to turn off your pop-up blocker or try restarting your browser. Suits subbed episode listing is located at the bottom of this page.